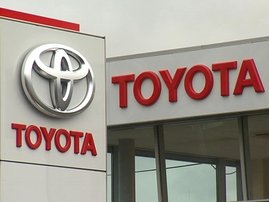 Toyota has announced that is recalling eight models of its cars across Europe to solve a potential an accelerator pedal issue.
Amongst the models to be recalled are the popular Avensis, Corolla, Yaris and Auris.
The company says up to 1.8m vehicles in all may be recalled because of the possibility that in certain circumstances accelerator mechanisms may stick or only slowly return to ideal position.
A spokesperson for Toyota here has said it will be the middle of next week before they know the exact number and model of vehicles that will be recalled in Ireland.
Toyota Ireland will be operating a helpline for concerned customers who wish to make contact with the company.
The number is 01-4190222 and will be open from 9am to 5pm tomorrow and Sunday.

Nothing is more important to Toyota than doing the right thing for our customers -- and restoring their confidence in the safety of our vehicles. We deeply regret the concern that our recalls are causing for our loyal customers, and we are making an all-out effort to develop and implement effective remedies as quickly as we can.
Our highest priority is to fix the accelerator pedal problems for our existing customers. We want to reassure Toyota owners that instances of sticking pedals are rare and generally do not occur suddenly. Toyota is currently in the process of recalling vehicles to remedy the issue of pedal entrapment and we have begun sending instructions to customers about how we will fix their vehicles. Customers who have any questions or have experienced any issues with their accelerator pedals should visit Toyota.com, contact the Toyota Customer Experience Center at 1-800-331-4331, or call their local Toyota dealer.
We've identified the cause of the problem and are focusing all of our energy and resources on developing and thoroughly testing remedies. Our engineers have been working around the clock and we've been in direct communication with the National Highway Traffic Safety Administration (NHTSA) throughout this process. We also appreciate the opportunity to inform the House Committee on Energy and Commerce about our efforts to address this situation for our customers and we pledge our full cooperation with the Committee.
Toyota has taken the unprecedented step of stopping production to help serve our customers quickly and ensure that all new Toyota vehicles going forward do not experience this problem. Toyota Motor Engineering & Manufacturing North America (TEMA) has also been working closely with our pedal supplier CTS on a revised design that effectively remedies the problem. These pedals are now in full production at CTS to support Toyota's needs. At the same time, we continue to work with CTS to test effective pedal modifications for existing vehicles on the road that will be available to our customers as quickly as possible.
We appreciate the comments that Transportation Secretary Ray LaHood made today about the way Toyota has stepped up to meet our responsibilities to our customers, and we are determined to continue fulfilling our commitment to put our customers first.