Just few minutes ago, got an alert email that a new car has been advertised on the Cars For Sale section…
Nothing weird about that as I do get quite a few of them every day, but it is my policy to check them out, making sure that all the images and descriptions are relevant to the ad itself.
This particular vehicle caught my attention – An Aston Martin Vanquish 2002 selling for 220,000.00 Euro, but it wasn't the price, make or model, it was the actual images uploaded.
As you can see below – it doesn't look like the right ones does it?
BTW – the pix'elated area are that of competitors URLs… and just in case you are asking yourself – our website is not in the list so is not the very bottom line… lol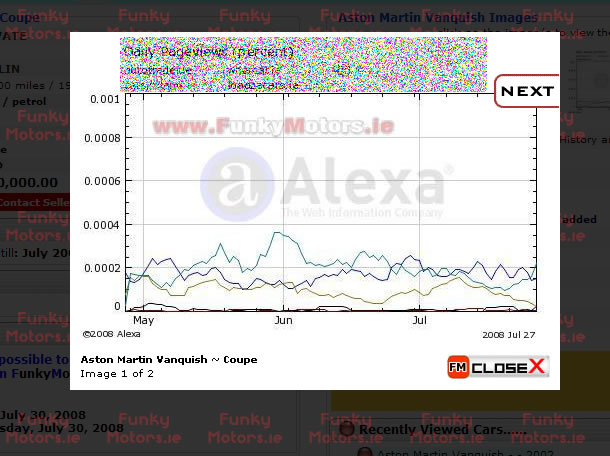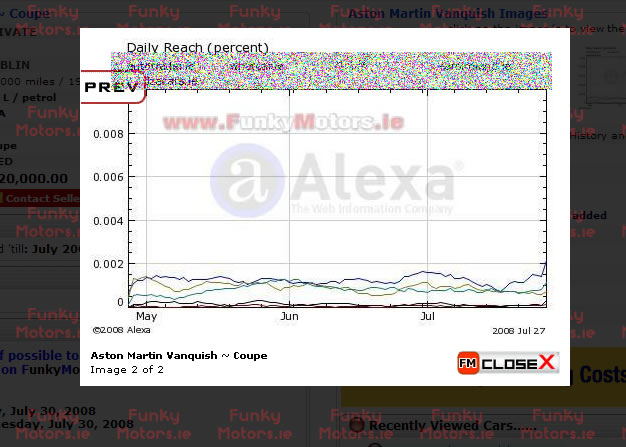 I knew from the start, it had to be one of our competitors, but never ever crossed my mind it's from the owners of Carzone.ie….
I mean, few days ago I get this SPAM text message sent to my mobile phone from one of our competitors, to advertise my car on their website for FREE. That was fine, but where did you get my mobile number? The only place I have it, is attached to a car for sale and it's on my own website, so I replied back saying – Please remove my number from your list…
Back to the main story itself, a few minutes later I get this strange phone call from a person with a strong N. Ireland / Scottish (not sure) accent asking a lot of questions.
How much does it cost to advertise a car for sale on our website? – Free of course I said as it is stated on the home page…????
How many hits does the website gets? – ???????
How many cars are advertised at the moment? – ????????
How many cars are sold using our website? – ??????????
a lot more….
This might have nothing to do with the car that has just been uploaded, but I like to believe it does….
Anyhow, I checked the log files and found the users IP address. A quick whois search reveals the following information:
Whois Record

inetnum:      193.243.130.0 – 193.243.131.255
netname:      TRMEDIANET
descr:        Trader Media Ltd Service Provision Network
country:      GB
admin-c:      JM230-RIPE
tech-c:       NAB1-RIPE
status:       ASSIGNED PI
mnt-by:       RIPE-NCC-HM-PI-MNT
mnt-lower:    RIPE-NCC-HM-PI-MNT
mnt-by:       EASYNET-UK-MNT
mnt-routes:   TRADERMEDIA-MNT
mnt-routes:   EASYNET-UK-MNT
mnt-by:       TRADERMEDIA-MNT
source:       RIPE # Filtered

person:       John Mills
address:      Trader Media Ltd
address:      Willow House
address:      1 Woodlands Park
address:      Ashton Road
address:      Newton Le Willows
address:      England
address:      GB
Why will someone from Trader Media – Company that owns CarZone.ie will do something like that?
What did they think, they are going to achieve by doing so?
For security reason, I blocked the entire IP range that belongs to them, which it doesn't mean they can not access our website any-longer, but  don't you consider this unethical?