Recently, a very good friend of mine has undergo her driving test but failed once again (talking about third time lucky-NOT).
Please Note: It didn't bother me at all that she failed the test, but when I've heard WHY, I got really upset, so I decided to contact the RSA Driving Test Office.
Tried by phone, but being put on-hold, I decided to fire-up an email which is included below.
To whom it may concern,

RSA, Driving Test

I have been trying to get in contact with you by phone, but due to no reply (being on hold for more than 15min), I am taking this complain by email.

I am just looking to clarify few things regarding the driving test my friend has had yesterday, which of course she failed due to:

 

 
1. Failure to stop at a Yield sign…
2. Failure to know that the filter traffic light has a sensor fitted which will detect the cars stopped in the middle of the junction… 
All in all, she failed the test due to the above "mistakes" made. 
Based on the "Rules of the Road" manual, you are not obliged to stop at a "Yield" sign, if there is no incoming traffic, and I quote: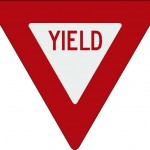 QUOTE: 
The Yield upright sign shown is just one version of this sign.
Other versions are the same shape and colour but might say 'Yield Right of Way', or 'Geill Sli'.
If you see a Yield sign on the road, usually near a junction or roundabout, you must give way to any traffic on a major road ahead and you must not proceed out onto the main road until it is safe to do so.
It is better to be safe than sorry, make sure you allow enough time to complete your manoeuvre. 
END QUOTE 
While the information given for a "STOP" sign says: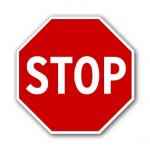 QUOTE: 
It is the only regulatory sign of this shape.
Stop signs appear at junctions with major roads.
If you approach a Stop sign, you must stop completely before entering the major road, no matter how quiet it might appear. 
Respectively … 
The driver must come to a complete stop before entering a major road.
The stop line sometimes appears with an upright Stop sign. 
END QUOTE 
"NOTICE THE DIFFERENCE?" 
################## YIELD SIGN ################# 
Coming to a Yield sign junction, on turning right, she was told she should have stopped, looked around, than drive away, but please take in consideration there was not traffic what-so-ever at that time on this particular junction. 
The Instructor didn't fail to mention few times that: 
QUOTE 
If you would have had taken driving lessons with a RSA approved driving instructor, you would have known that that's the way RSA want you to drive 
END QUOTE 
################## TRAFFIC LIGHT ################# 
Coming up to the traffic light junction.
Lights are red, so the car comes to a full stop.
She was instructed to make a right turn, so the vehicle was positioned on the inside lane as per manual. 
The light turns Green.
Observing the queue from the opposite incoming traffic, she drove slowly just passing the traffic light (now behind her), showing her intention of turning right to the other drivers.
When seeing a safe gap on the incoming traffic, she moved the vehicle in the centre of the junction, and made the right turn safely, before the filter light was even on.
Please take in consideration, no obstruction of traffic has been done, but she was marked with an "X" due to not making progress at traffic lights. 
When she questioned the driving tester, she was told: 
QUOTE: 
You should have moved to the centre of the junction, as soon as the light turned green, as there is a sensor fitted on these lights, and if you have had lesson from an  RSA approved driving instructor, you would've known that. 
END QUOTE 
Please reply to this email ASAP as this issue needs clarification.
If RSA decides to make changes to the way we, the drivers, are supposed to drive on the road, than I think we should know about it ASAP.
Rules of the Road are an international matter and can not be any different than other countries therefore a "Yield" sign it's a "Yield" sign…
The same day, I got a phone call from the RSA Office looking for more information on this matter as test reference numbers, etc…, and few days later got a letter from the office saying:
 QUOTE:Dear …..,I wish to acknowledge receipt of your complaint regarding your driving test in Tallaght on 18/09/2007 (that should have been 2008 – it's just a year in difference).Enquiries are now being made with the tester in question through his supervisor and I will be in touch with you again as soon as I have a reply from him.Your sincerely, ……………………..
Driver Testing Section
Road Safety Authority
END QUOTE
but that was the end of that, and after sending another email, I still haven't got any replies what-so-ever.
We contacted the driving instructor the same day to find out if he's part of the new Regulation of Driving Instructors due to the fact that she was told few times that, if she would have taken driving lessons from an approved RSA Instructor than she would have know those things.
The answer was YES, he is a RSA approved instructor.
He also said that RSA are changing the way the tester are looking at the Yield sign due to too many accidents that happens after the driver passes the driving test.
But that doesn't make any sense to me for the simple reson that after failling a driving test, these people are back on the road – so how come they don't have any accidents then, but only after passing the TEST itself?
Have you undergo your driving test lately and failed?
Tell us about it and please let me know your oppinion on this matter…
Posted on: October 2nd, 2008